MALS: Designed to accelerate your business.
Maintenance budgets are under pressure and everyone is trying to do more with less. Staffing levels are down and skilled positions are being lost to attrition and unprecedented phenomenons.
Machine failures are very expensive and decidedly inconvenient; many are are the result of too much, too little or the wrong lubrication at the wrong right time. Often considered a mundane yet necessary job, the lubrication of a assets are often overlooked or passed on.
A "Managed Automatic Lubrication Service" (MALS) protects your assets and ensures maximum performance by lubricating your machinery exactly as it was designed. With the correct lubrication the correct amount at the correct time our MALS will ensure your assets are optimally lubricated for a maximum performance.
The 2020 Corona Virus pandemic saw dramatic changes within all UK industry's. With no access to business premises to support their customers, TCET and ALS came together and to create a suit of remote services to support their clients in this time of need. With state of the art hardware, software and and in house expertise the 2020 pandemic saw the birth of our MALS, relieving the mundane yet essential job of lubrication from their clients key personnel.
MALS ensures the job of lubrication is executed correctly 24/7 – 365 days of the year, freeing up your engineers to what they do best — and drives your profitability.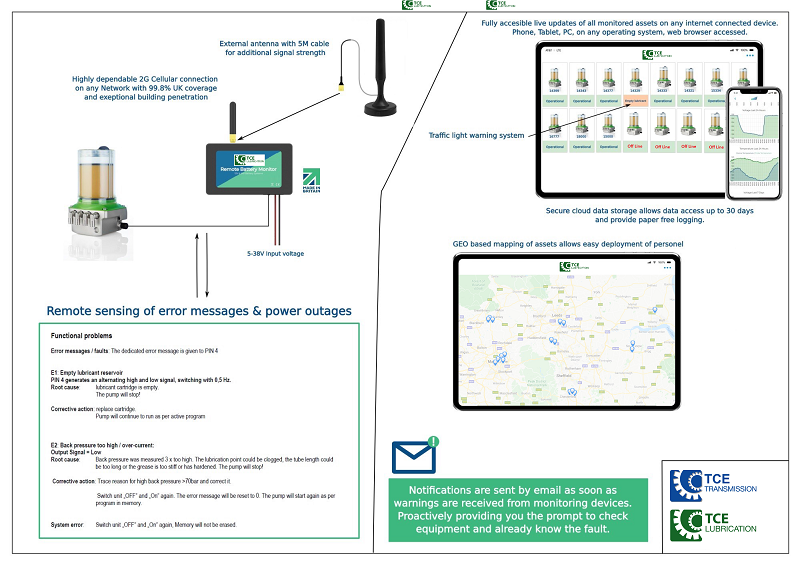 Designed to accelerate your business
TCET and ALS have invested in state of the art automatic lubricators and remote diagnostic software; controlled and managed remotely from our UK offices. Our online auto-lubricators solutions deploy the correct lubrication every time on time 24/7 or as often as specified. Our team will check all online lubricator levels, run diagnostics and dispatch an engineer to perform duties as agreed with in service level agreement (SLA).
Sensors Available:
Temperature
Vibration
AC Current
DC voltage 0-100V
Gas/Smoke
Humidity
Motion
Door switch
Light
Barometric Pressure
Water Pressure
Air Quality & many more..
Level 1 Service:
We will report to the assigned operator via email or text the required intervention for each and every online lubricator at the agreed intervals inline with the service level agreement (SLA)
Level 2 Service:
We supply: Automatic Lubricator, Lubrication and Engineer.
We remotely examine all lubricators as agreed in the SLA.
Where necessary, we will dispatch engineers armed with the correct lubricants and a back-up devices should the onsite lubricators need to be to returned back to base.
We will report inline with the agreed SLA checks and interventions made to a location/line/plant during a specific period of time .
The Benefits of a MALS
When you work with ALS you stay ahead of the technology curve and can focus on what is your core business.
Developed and run by lubrication engineers and industry experts.
Best practices and appropriate management tools to ensure every machine gets exactly the service it needs.
Optimization of lubricant selection, volume and frequency at each maintenance point.
Oil analysis to identify wear patterns and deviation from normal operation as well as lubricant health and contamination levels.
Application of latest industrial lubrication technologies – including delivery systems, filtration and contamination control accessories
Superior lubricant organization and storage.
By following lubrication best practices and using appropriate management tools, our MALS prevents the primary cause of equipment failure at its source. Reducing unplanned downtime and reactive maintenance helps increase productivity from existing equipment assets and personnel.
Lubricants and associated equipment need appropriate handling and storage. Following industry standards, we offer safer, cleaner storage with correct labeling and good handling disciplines. Better lubricant management guards against environmental and safety risks and may even cut expenditures on oil and grease.
Focused, yet flexible across multiple industries
We can adapt our expertise to serve new industries and their unique production assets and manufacturing environments.
Click here to find out how we can help